Hello Again! It's time for another lovely feature for my bag sponsor, Tocco Tenero!
This month, there are lovely lovely new arrivals in-store! Check them out here. It was so hard to make up my mind!
Last month I checked out Millenia Walk's Tocco Tenero outlet, so this month, I headed down to Wisma Atria's Tocco Tenero outlet for a look see!
Vibrant neon colour sling bags which I was tempted to get but I had something else in mind..
You'll see later.
Colours are IN this season eh!!
Blue, Mustard and Orange in these little brick like shaped bags give you heaps of room for everything you need to bring out with you!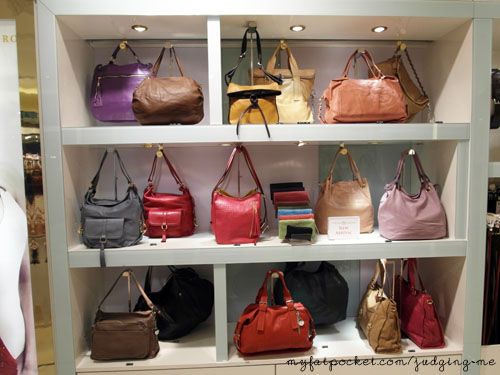 A whole self of new arrivals - this shelf of bags seems to be catering for the working office crowd like me. You'll surely find something suitable. And I? I settled for....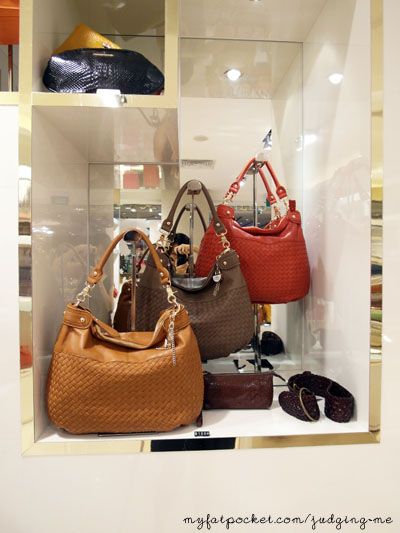 ZEST Shoulder Bag
Model number: TE158001
Material: Washed Goat Leather
Hardware: Gold
Closure: Zipper
Price: S$199.00
I loveeee this! I had my eyes on this the moment I walked into the shop. I could not decide between the light brown or the grey and in the end got the one in grey! Thanks to Cai Yu from Tocco Tenero who helped me decide by telling me how she prefers grey over the brown cos grey goes with most anything! That's true!
I am using this as a work bag and I find it extremely suitable. I can put so much in there - a per-requisite for the bags I buy.
This bag may be displayed as a shoulder bag, but it comes with a long strap that can convert it into a sling for a more casual look.
I also have a lovely CLUTCH/SLING bag, a TOTE bag and a CARRY-ALL bag from Tocco Tenero! Click the links to see pictures!
Tocco Tenero sells good quality 100% leather bags (super important esp if you're like me, an unintentional bag torturer) at less than $200. It's a steal!
If you don't find anything you like, wait another month and check out their new arrivals or come back to my blog here to save yourself the trip!
**
Visit Tocco Tenero website to know about its leather goods. But if you wanna know more about daily style hits and great promotions, then 'LIKE' their Facebook Page!
Tocco Tenero Outlets can be found at:
#01-33, Wisma Atria | #P1-26, Millenia Walk |9 Raffles Boulevard, QB House | #B2-09, Canal Level, Robinsons, The Shoppes Marina Bay Sands | #05-05, Robinsons, The Centrepoint | #01-187, #02-189, Tangs, Vivocity | #01-47, Changi City Point | OG People's Park