Thanks for reading Part 1! Here's Part 2 where I continue about the decor and the fun we had!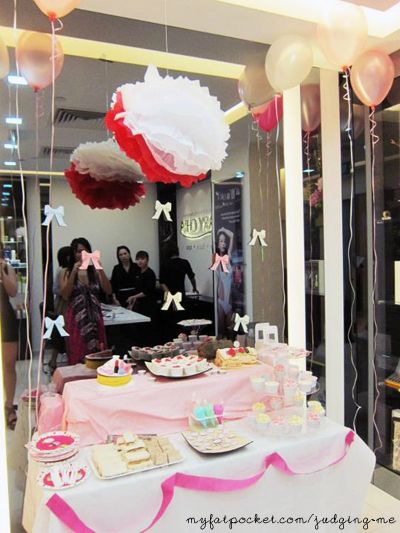 We decorated the place like crazy in a pretty pink girly theme.
I went a little crazy. I DIY'ed a lot of the things that you see in the picture above.
1) The little ribbons on the mirrored wall
Oh boy, I spent hours making these delicate little origami beauties. Here's a link to a video tutorial for it if you are interested.
You will need a stack of some origami papers, a scissors, a penknife and some glue.
I got my origami papers at $2 per stack at Daiso.
2) The Big Pom Pom
I love these pom poms. I actually travelled to so many places just to find tissue paper to make these pom poms. But cos you are reading this, you're in for luck for I will point you the way.
Here's a link to a video tutorial for it if you are interested.
You will need 10 sheets of tissue per BIG pom pom, some wire/string to tie, some fishing line/ribbon and scissors.
Get a pack of 10 tissues at Artfriend for $3+
3) The Streamers
Get them cheap at $1 per large roll at ArtFriend! Party Shops sell these too but they are sold at $4 per roll. More expensive! Oh I also found these lovely DIY duo colour streamers which I think you should TOTALLY check out if you have a sewing machine!
4) Photo Montage
I made a surprise gift for Mary Chia staff! It's a little noticeboard made with origami paper and polaroids stuck on it!
Board, Flower tape and Origami papers are from Daiso. Paper flowers are my own that I bought a while back from Bangkok. Polaroid snaps are $15.50 for 10 films at any photo shop!
5) Helium Balloons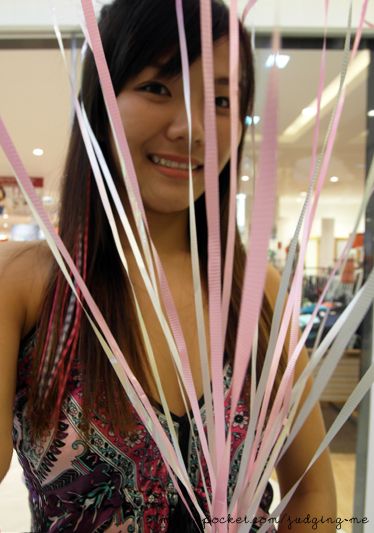 I bought 20 of these helium balloons for $24 at those party shops along North Bridge Road (adjacent to NLB, right opposite TCC outdoor seating at Bugis). They were lovely. They made the whole place look instantly girly. So effortless and sooo pretty.
Super LOVE.
6) Cupcake Stand
Although these were provided by Sweetest Moments alongside their cupcakes, you can buy one of these serving stands for any party event at Ikea for only $19.90.
7) Polaroid Sleeves
Hands up for those of you who find polaroids too small for much personalisation?? I know I did! And besides I wanted my guests to bring home a lovely memory of the event in the form of a personalised polaroid! So what I did was I went to Qoo10.com.sg and bought myself some plain polaroid sleeves that you can just tuck these little pretty polaroids in and decorate all around the corners! Only $8.50 nett inclusive of shipping for 20 pcs!
Check out what some of my lovely guests did!!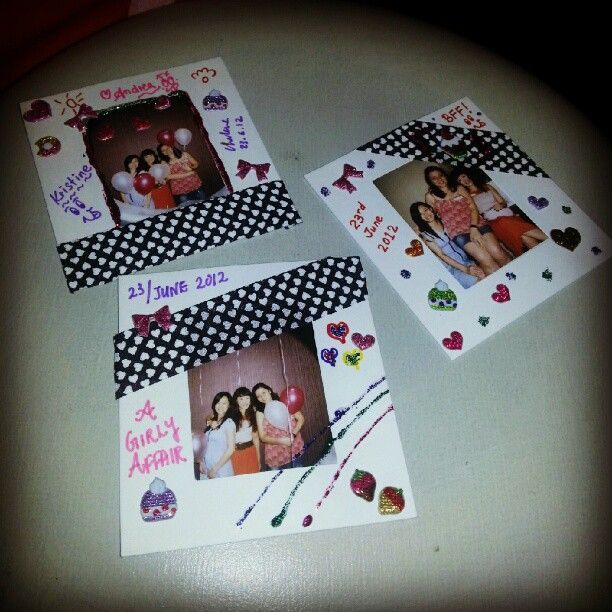 Featuring Kristine, Charlene and Andrea's designs!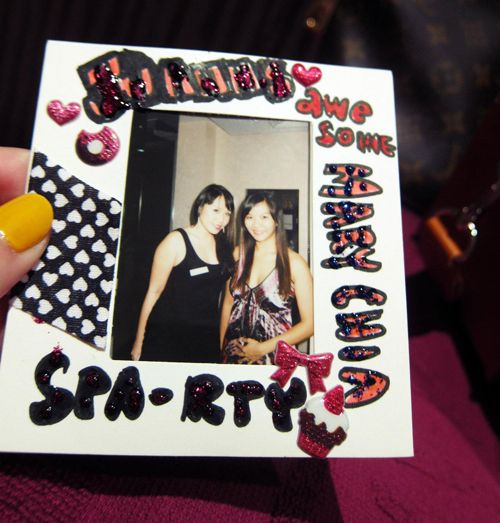 This is Carrie's!
Wei that's not all to the party yet!! Stay tuned for Part 3 where I reveal what all the guests went home with
Stay tuned if you wanne know what are in these pretty bags!
**
"A Girly Affair" with Mary Chia is a series loaded with heaps of party planning tips, awesome photos, and everything else that went on during the lovely party bash I organised!
Here's all about the food, and the decor, and the goodies that went home with all my guests! Don't miss out this last part where there are heaps of photos of pretty girls at the girly affair!
**
Mary Chia OG Albert Complex (60 Albert Street #02-02)
For appointments, call 6333 0166
Read reviews on Mary Chia Slimming & Facial Treatments!
Check out Mary Chia on Facebook for more promotions and updates. This is made possible by OMY.sg and Mary Chia as part of the Singapore Blog Awards for the Beauty Category.