Do you know that the first signs of aging begins when we turn 25? So for all of you who think you are still too young to think about anti-aging products, think again!
Premature ageing in women in their mid 20's is caused by sun exposure, pollution, hectic and stressful lifestyles. And that would apply to mostly all working women in Singapore!
There are many types of anti-aging skincare products out in the market but you need to be careful in choosing what's suitable for your skin. In your mid 20's when you are facing the first signs of aging, you are not quite ready to use an intensive anti-aging treatment.
Loreal Paris is launching a new product called the Revitalift Day Cream and Essence - a multi-tasking skincare solution for busy, time-pressured women in their mid 20's. Why is that, you ask?
L'Oreal Paris Revitalift White Day Cream simultaneously fights the 1st 15 key signs of ageing, simplifying our day to day complicated skincare regime. This product is endorsed by Hebe from S.H.E who says that this product simplifies her skincare regime and gives her more time to herself.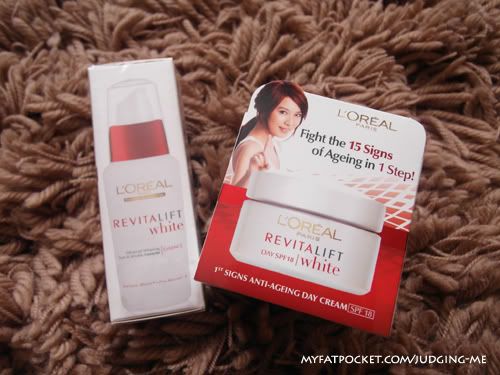 INGREDIENTS LIST:
Pro-Retinol A (Prevents Premature Ageing): Reduces wrinkles and fine lines by stimulating cell renewal Helps to thicken the epidermis for a complexion that looks soft, smooth and supple
Vitamin B3 (For Fairer, Translucent & More Radiant Skin): Evens out patchy skin tones & lightens skin without a trace of brown spots or pigmentation by inhibiting the transfer of skin-darkening melanin to skin cells
Shea Butter (For Hydration) Holds moisture within
SURVEY:
100% saw reduction in fine lines & 93% saw a clearer complexion and fairer skin.
Based on 40 women who used Revitalift White Day Cream SPF 18 for eight weeks.
MY REVIEW:
Revitalift White Day Cream SPF 18 | Retail Price: $27.90 (50ml)
Love the scent of this. I have been using this for the past week and initially I was worried that this might make my skin too oily but it turned out fine. The texture glides on easily and does not feel too thick.
Revitalift White Essence | Retail Price: $34.90 (30ml)
I find that this essence is best used before sleep cos I noticed that when I put this before bed, my skin wakes up bright-looking!
Available from: Watsons, Guardian, SASA, Selected Department stores, Supermarkets & Hypermarkets
Join Loreal Paris Singapore on their fanpage for updates on the latest promotions and products!