Liquid eyeliner creates a dramatic, strong line that really emphasizes the shape of your eye. With the right liquid liner, the lasting power is doubled that of a pencil liner.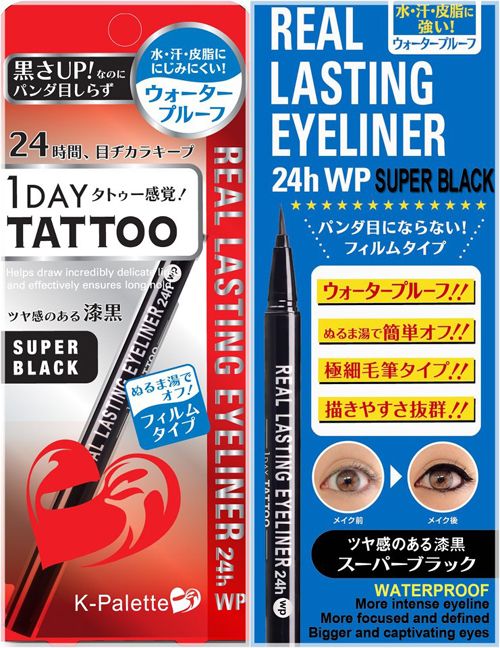 Made in Japan, the award-winning K-Palette's 24-Hr Real Lasting Eyeliner comes with a micro-fiber felt-tip applicator for precise application and easy control. It's formula contains water-resistant polymers for smudge-resistant and sweat-resistant 24-hour wear along with chamomile extracts and panthenol to nourish the skin.
Their eyeliners come in 3 different shades: Black, Deep Brown and Super Black. The Super Black and Deep Brown ones are Waterproof. I'll be reviewing the Super Black in this post.
Just as promised, the eyeliner glided on easily without skipping and delivered intense pigmentation so you don't ever have to go over the line twice. Thanks to the thin yet long bristles, I can easily create a thin line or a thicker one for more drama.
Okok, check it out here. On normal work days, I prefer to go with a very thin line for eyeliner. When I say thin, I mean, very THIN. Obviously this will be very hard to achieve with normal pen/pencil-tip eyeliners. But with the K-Palette Eyeliner, my needs are met.
This liquid liner has little to no barrier for newbies to eyeliners! I always avoided liquid liners cos I was afraid of how difficult it would be to control the soft tip. But boy this was EASY to use. It glided on smoothly without any breaks. And it lasted all through the day on my oily lids!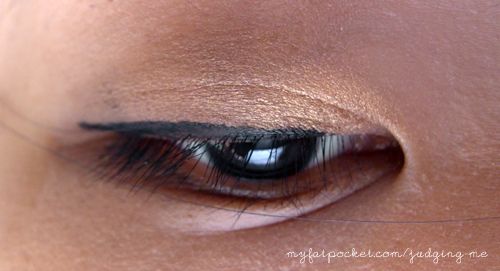 Normal eyeliner thickness line...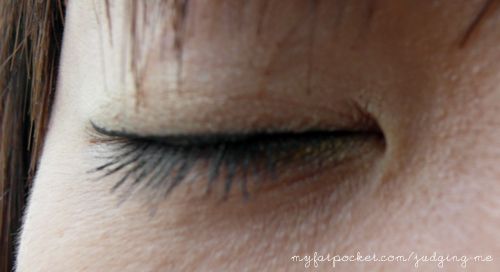 Super fine eyeliner line...
Check out my thin and thick lines. I love how PRECISE I could make the lines. I could layer them on to make them thicker or draw a really thin line.
Also, choose an eyeliner that has a fine tip to ensure that your line will be not too thick and easy to manage while putting on.
They say K-Palette's 24-Hr Real Lasting Eyeliner is award winning? I say yes! Go try it!
Here are some tips on how to apply Eyeliner by K-Palette!
Available at Sasa, selected Watsons, BHG & Nishino Pharmacy and www.beautycarousel.com for SGD19.90 only!
More info on this product here. Like them on Facebook for the latest and the greatest!