Last month, Mimi and Lynn from PUPA cosmetics were very kind to invite a bunch of us bloggers to a very atas italian restaurant along Club Street - Senso Ristorante & Bar (great food btw!).
Mr Giorgio Forgani, PUPA's International makeup artist, made a special appearance to spice the whole evening by demonstrating a lovely glam look on Ms Singapore Universe, Valerie Lim.That's Mimi on the left!
Here's the outcome after 30 mins of serious kungfu from Giorgio Forgani on Val! So happy to see Val again after sooooo long.
She has achieved so much since we last met!
Reviewing Pupa's new eyeshadows and mascara!
There was a time in my teenage years when coloured lashes were DA BOMB. Every girl had to have coloured mascaras. The most popular being BLUE. I remember the pinks and greens were very much sought after as well. Doesn't this bring back lovely memories?
I brought home the blue mascara and really love it for it's dense blue colour which didn't take much effort to achieve. I think it does GREAT for colour and volume. Check out my lashes above! Super <3!!!
This is PUPA's Revolutionary Mascara Vamp! (S$35) that comes in 5 vibrant colours: Chocolate Brown, Deep Night, Electric Blue, Amethyst Violet and Emerald Green. If you ask me, you should TOTALLY check out the Emerald Green & Amethyst Violet... superrr vibrant colours! Totally <3!
**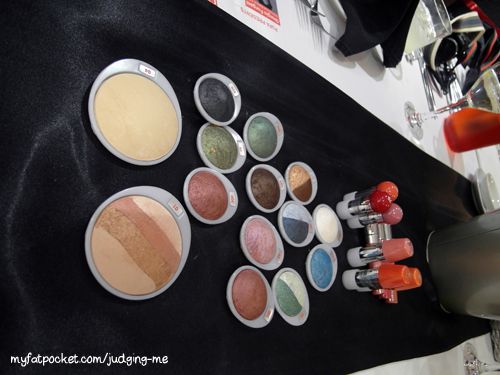 Look ordinary? Or so I thought till I took a swipe!
What I love about their new range of Luminys Silk Eyeshadows (S$26)?
1) Brilliant Colours!
The selection of colours is lovely!

2) Very Pigmented and Blendable
The colours are very pigmented, glides on well and blends easily. Doesn't take a lot for good colour too. I loveeee the bronze palette - my fav. It contains two perfectly coordinated shades for blending.
3) Packaging
The packaging is a cute compact shaped like a spaceship, but quite bulky. Perhaps a more compact squared shape would've been better and easier to carry around.
4) Wet and Dry
You can also use Pupa's eyeshadow duo with water so it get's a more deeper colour. Use it dry for a delicate & shining effect and use it wet for an intense & pearly finish. Whattt...
<3
I wanne buy the blackish shades to create a smokey look! Retails at S$26 each.
**
Luminys Touch Highlighter (S$33) is also another product worth mentioning. It is a complexion highlighter with radiant effect treatment. It:

is a complete beauty action that helps improve face brightness
helps reduce dark circles around the eyes
Formulated with Soft-Focus Powder Complex that reflects light, giving an impeccable result : Under-eye circles and signs of tiredness are minimized, resulting in extraordinary radiance. It can also add brightness and glow to shaded areas of the face. Give added definition to your facial features by applying it on areas like cheekbones, forehead, ridge of the nose and even point of the chin.
It comes in 3 shades: Luminous Ivory, Luminous Sand and Luminous Peach. It can be used alone, before or after applying foundation to immediately illuminate the face.
**
All Pupa products are available in BHG Bugis Junction, selected John Little outlets, SaSa Cosmetics just to name a few.
For more information and updates, visit their FB Page HERE! (: