Last weekend, Ariel Lin, brand ambassador for KOSE Sekkisei products had a meet and greet session at Tampines Mall.
I was so lucky to be reserved a front row seat and got to be so close to Ariel Lin. She's incredibly cute and has skin that is super flawless!!
Lee Teng, mediacorp artist, was the host of this event. He has such nice eyes that sparkles with adventure and mischief!
Ariel made her appearance on time without any delay. That's really considerate and cool of her!
Ariel shared her beauty routine and her secret to flawless skin. She strongly believes in "Simple is Best" when it comes to skincare. She believes in light exfoliation but not too much or often as she believes that it will tug her skin.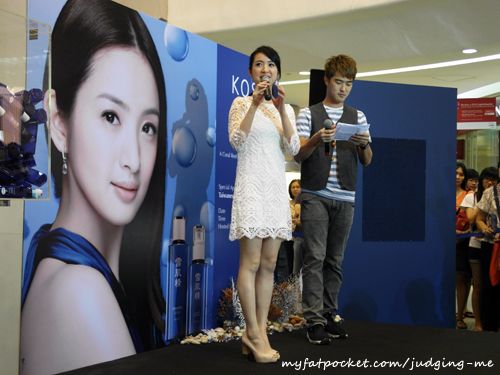 She has also been using KOSE Sekkisei since she was 18! That all explains why she doesn't look a day over 23 even though she's turning 30 this year! I sure hope it's not too late that I start now.
Oh ya, another tip she shared was that she drinks red date tea every morning! I gotta try that soon as it's not the first time I've heard this. Seems like a lot of celebrities believe in that red date tea helps improve complexion!
Being an artist like Ariel is not easy when her filming has her awake by 8am and in bed by past midnight... her skin still looks perfect even with a busy schedule and lack of sleep most times.
She also explained the KOSE Save The Blue Project campaign and she did so eloquently and passionately. Her love for KOSE Sekkisei's products, especially the Lotion, simply shines. She talked about the special limited edition KOSE Sekkisei Save The Blue Products which you can read more about here.
What a great partnership KOSE Sekkisei and Ariel makes.
Lee Teng and Ariel also had some mini games with the audience and so many in the audience were such fans of her! There were Q&As and even a rather interesting puzzle game where contestant had to piece together a puzzle to form the KOSE Sekkisei posters.
Everybody wanted a photo with Ariel Lin but again, thanks to KOSE, I got a personal photo with her!! *screams in delight* And an autograph!
She was so polite to everyone and in that lovely white dress and fair skin, she looked every bit the angel. I'm sooo happy to have come so upclose to her! Thanks KOSE!
My skin and I have a long way to go to achieving skin like Ariel Lin's and the journey starts with KOSE Sekkisei, right now.
KOSE Save The Blue products are only available at the 18 departmental stores below. Travel sets will only be available at airports after July so go grab yours now! Remember, part of the proceeds of the sales will go to researches that will try their very best to save and protect the coral reefs in Singapore.
Isetan Katong, Scotts, Tampines, Serangoon
Metro Paragon, Woodlands, Sengkang, City Square
OG Albert Complex, People's Park, Orchard Point
Takashimaya
Robinson Centrepoint, Raffles City
BHG Choa Chu Kang, Bugis Junction, Bishan Junction 8, Clementi Mall