Hello everyone!! I was at Mary Chia's OG Albert Complex's outlet again!
This time I made an appointment to try out their facial! Queenie, branch manager, got me all excited about this new product that they launched last year and they are going to let me try this!
In this post, I will be review the facial, show some before and after photos and hey, you'll want to read what I think makes a difference in a beauty salon!
Scroll on.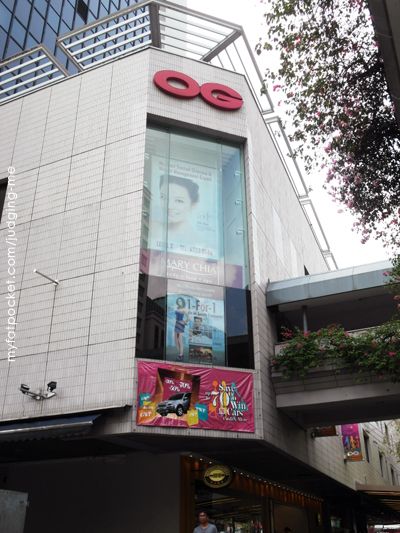 Hello OG.
Once you go into OG, go up escalator, and look for triumph swimwear counter. You'll spot Mary Chia just next to it!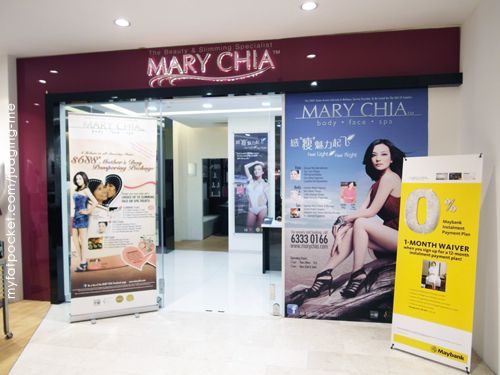 I was on time. 11.30am on the dot for a Saturday morning.
I am happy to have Sally as my therapist again. Last I went to Mary Chia, she did my slimming for me and I really enjoyed my time with her.
She got me all comfy on the facial bed. I love the temperature in Mary Chia. It was cold enough that when you wrap yourself in the blanket they provide, it's pure heaven... a very heavenly type of snugly heaven.
She showed me the above and told me that today, I'm going to try their very popular product range called Blanc Perfecto that was launched just last year.
A world record and a chance to help others
Last April, Mary Chia set a Guinness World Record for the "Largest Number of People Wearing Facial Masks", when 859 participants donned the Blanc Perfecto Perfect Radiance System, which was also launched at the event. Apart from earning Mary Chia a place in the Guinness Book of World Records, the event also marked the launch of Mary Chia's community service programme, Women Mpowerment.
This community scheme aims to help women re-enter the workforce, improve their work-life balance and provide opportunities for women to upgrade their skills to ensure long term employment.
Check out the video above. It explains why Blanc Perfecto works to help women achieve more radiant, supple and fairer skin.
Blanc Perfecto is a natural way to fair, radiant skin. Exactly what my tired, dull skin needed.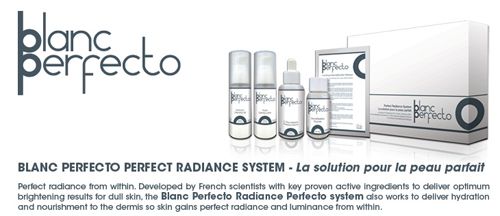 Let me show now why it's magic!! Here's a before and after photo with just the Blanc Perfecto Hydra pH Cleansing Gel mixed with the Blanc Perfecto DermaRedefine Enzymes.
Can you see that my face was instantly fairer!? I'm quite amazed at this product...!! Suitable for all skin types.
After cleansing, Sally proceeded to do black/whiteheads extractions. It was bearable and check out what a crazy good job Sally did!!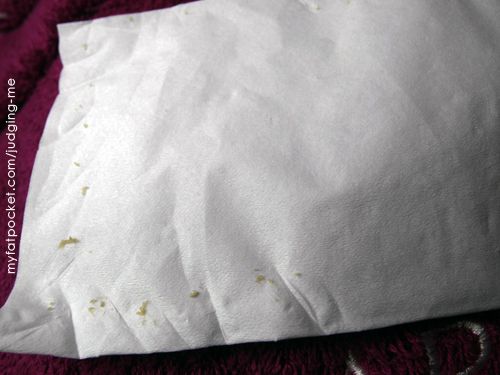 OMG right?! This is only a small part of the tissue! There are more all over the whole tissue! Haha sorry I know it's gross.
Next up was the mask. The mask was like any other sheet mask but boy it was also another great one. After masking & the Blanc Perfecto Hydra Calming Lotion, my skin felt super hydrated the whole day. Shine was kept well within control!
Me likes. Especially when it was yet another crazy Singapore hot and humid day!
For a fairer and brighter complexion, try the Blanc Perfecto Facial. It has botanical extracts that helps to purify the skin from the inner layers of the epidermis, improve skin hydration level and
What sets one beauty place apart from another? In my opinion, while technology and visible results are important, what's of utmost importance in my opinion are the employees. Much luck is needed in meeting the right therapist. I think I met my right one in Sally.
She is based in the Mary Chia OG branch.
That's Sally on the right!
From the branch manager, Queenie who is extremely considerate and non-pushy for sales, to my therapist, Sally who is passionate about what she does and shared knowledge gained in her years of experience. They made my experience with Mary Chia extremely pleasant and not to mention stress free. Not to mention, from the first appointment, Sally always greeted me by my name.
You will be interested to know all about the product writeups on the Blanco Perfecto range by clicking here.
For my next appointment with them, Sally suggested that I try their massage. She knows of a therapist which is VERY good with massage and said she will arrange for her to do the massage for me if I want!
If you are interested, their packages are $899 for 10 sessions of either facial or massage.
Facial comes with ampoule and double masking. The massage comes with ginger scrub (niceeeee!) and either hot blanket or sauna (your choice!).
If you are undecided, you may also buy the spa package at same price of $899 for 5 sessions of facial and 5 sessions of massage. I think it's a good buy. I'm considering the facial package at the moment..
It's rare that I find a therapist like Sally who is diligent, switched on, experienced and considerate all without being pushy on packages/products.
If you are interested, do read my previous post on their slimming treatments too here.
**
<strong>OG Albert Complex (60 Albert Street #02-02)</strong>
For appointments, call 6333 0166
Check out Mary Chia on Facebook for more promotions and updates!click on this link for more info. This is made possible by OMY.sg and Mary Chia as part of the Singapore Blog Awards for the Beauty Category. Do vote for me by clicking below!