Hey who else here loves diving and the underwater ecosystem like I do?
That's me with the yellow flippers!
One of the most beautiful places I've been to for reef diving is in Sipadan. Here's a photo I took of the reefs at Sipadan.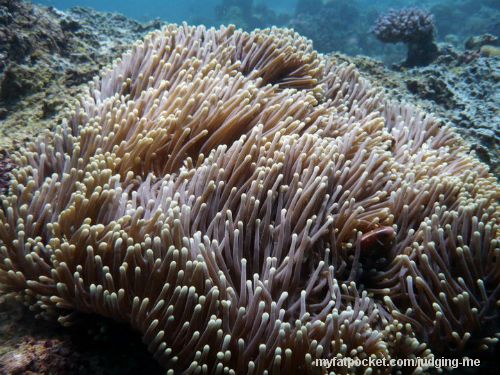 While Singapore may not have such beautiful coral reefs but there are still some and these coral reefs are important. Here's why:
> Coral reefs form natural barriers that protect nearby islands' shorelines from the eroding forces of the sea.
> Coral reefs provide irreplaceable sources of food and shelter for many spieces, much like how tropical rainforests play a similar role on land.
We need to protect these quickly diminishing reefs around the world, even in Singapore and KOSE is one of the environmentally-conscious brands here to do their part in conservation.
Save the Blue Project is an environmental initiative by KOSÉ to protect the world's fast depleting coral reefs. Beginning with the corals reefs off the Japanese island of Okinawa, the Save the Blue project now expands to Singapore.
As part of the Save The Blue Campaign, KOSE SEKKISEI launched a limited edition full sized lotion and travel set. Check it out here: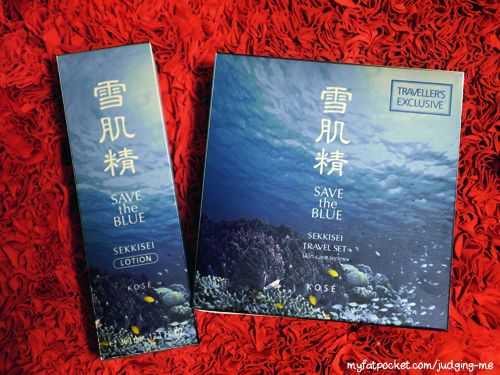 Save the Blue Limited Edition SEKKISEI Travel Set (Retail price: $209, Special promo price: $142, promo till 31 July 2012). From 01 June to 31 July 2012, for every purchase of Save the Blue Limited Edition SEKKISEI Lotion (360ml) and/or SEKKISEI Travel Set, KOSÉ will donate part of the proceeds to the research, education and conservation efforts of Singapore's coral reefs.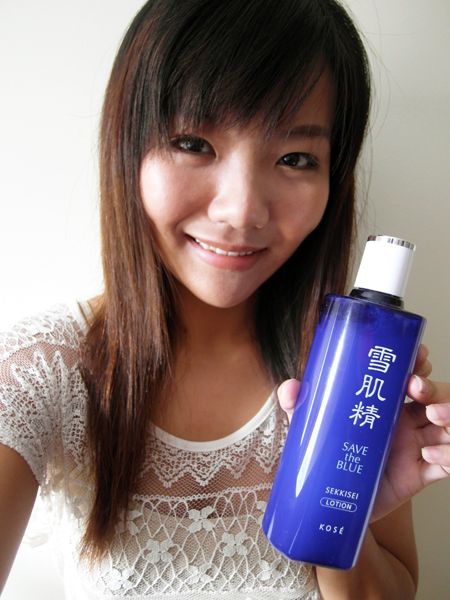 Save the Blue Limited Edition SEKKISEI Lotion (Retail price: $121)
My Review
I super love the SEKKISEI Lotion! I pour some onto a cotton pad and pat it into my face like 30 times every day and night as the first step of skincare right after cleansing. My skin is clearer and brighter after 2 weeks of consistent usage. My forehead is constantly having breakouts and I think the situation has been improved after using the SEKKISEI Lotion. It is pretty cool. Ariel Lin (林依晨), Taiwanese Actress/Singer, keeps raving about it too!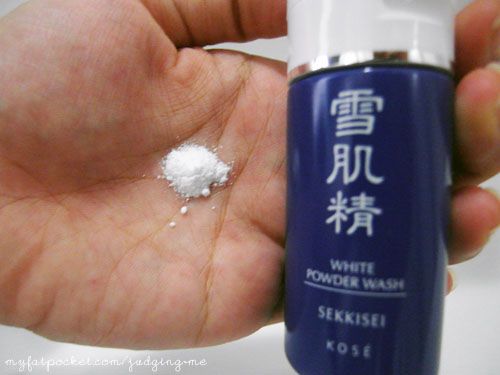 The SEKKISEI White Powder Wash is a powder-based cleanser - interesting yeh? This is my first time using a powder-based cleanser! I pour some powder onto my hand, mix it with water and then gently cleanse my face with it.
Just added a little water... and it foams up well! What a surprise!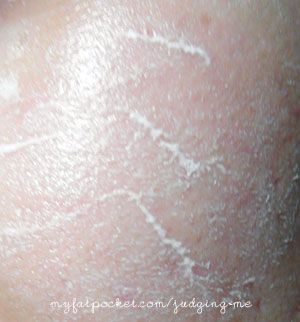 Perfect as a travel companion and you can even bring it onboard cos it's not liquid! How cool is that!
Keep in touch with KOSE on Facebook and their Website!
KOSÉ's bestselling skincare and cosmetic brands include SEKKISEI, SEKKISEI SUPREME,SEIKISHO, ESPRIQUE, BEAUTÉ de KOSÉ, COSME DECORTE, INFINITY, ASTALUTION, MOISTURESKIN REPAIR, JUNKISUI and more.
KOSE Save The Blue products are only available at the 18 departmental stores below. Travel sets will only be available at airports after July so go grab yours now! Remember, part of the proceeds of the sales will go to researches that will try their very best to save and protect the coral reefs in Singapore.
Isetan Katong, Scotts, Tampines, Serangoon
Metro Paragon, Woodlands, Sengkang, City Square
OG Albert Complex, People's Park, Orchard Point
Takashimaya
Robinson Centrepoint, Raffles City
BHG Choa Chu Kang, Bugis Junction, Bishan Junction 8, Clementi Mall