Came across K-Palette's Mascara after trying their eyeliner (which I really like a lot). So here's a quick review: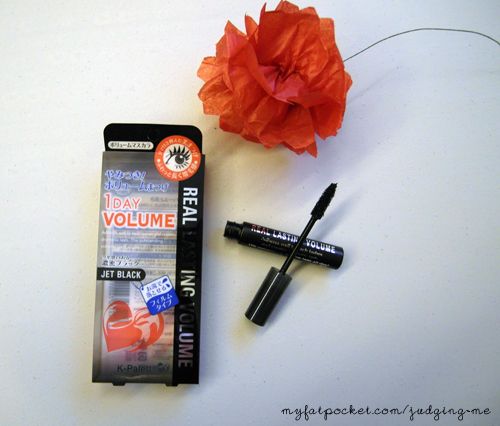 K-Palette Real Lasting Volume Mascara (Retail Price: S$26.90)
Water Resistant - shuts out water, sweat and sebum
Adds Volume & Length
Deep, black colour
Removes easily with lukewarm water
I've never quite seen a mascara as unique as this. As usual, I did not read the labels on the packaging and just dived straight into using the product. Here's what I noticed:
On Smudging: I have not gotten any "panda-like" eyes. Meaning it doesn't smudge! Thank god!
On Removing: When I rinse with lukewarm water, the mascara doesn't come off and stain my lower lids! Instead, it comes off in little black shreds which are easily rinsed off. I find this pretty amazing! I especially love that it doesn't just stain the area around my eyes the moment lukewarm water touches it.
On Curl Factor: Not much experienced here. And then again, I haven't found any that lifts my lashes up without curling
On Volume: I usually don't have patience for more than 2 coats. With 2 coats, the below is what I got. Good enough I say
And no clumping on my lashes too.
Available at Sasa, selected Watsons, BHG and www.beautycarousel.com for SGD26.90.