Here's another installment on protecting yourself against the sun!
This time, we look at a Switzerland-made product by Enavose. It's called Essencious, the Invisible Sunbrella UV Mist with SPF45.

What I love about it:
It protects me against UVA and UVB rays
Super convenient packaging - it comes in a spray form which comes out in a mist and dries quickly on the skin
Ideal for both face and body
Oil-free!
Can be used over makeup!! (Impt, just spray and pat dry, no more of those oily ones)
Remember ladies, it's not just the beach holidays you need sun protection for! It's necessary for your everyday life! Especially since we're in sunny Singapore  -.-! And if you've been out all day under the sun, you'll need to reapply every 3 hours!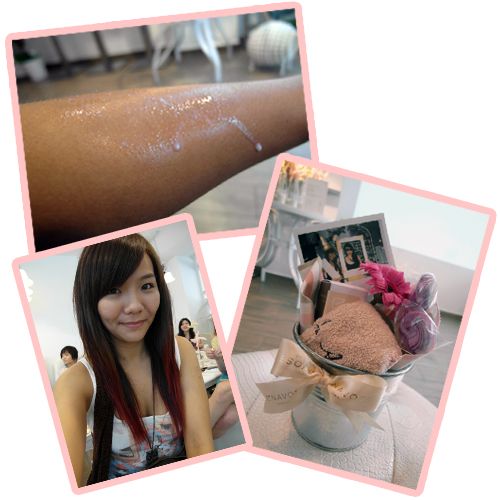 It was a lovely event Enavose organised for us bloggers. Check out the pictures.
Why is it good for your skin and you!
Broad-spectrum PA+++ protection
DNA-protective peptides protect your skin's from cellular-level UV damage
Comprehensively protects against oxidative damage from free radicals to prevent premature ageing
High antioxidant content protects skin from melanoma formation and wrinkles
Lightweight, oil-free formula ensures no greasy feel on your skin and no product build-up
Hydrates and replenishes moisture in skin
Oil-free, Alcohol-free and Fragrance-free
Handy and portable with no-spill mechanism
The good stuff it contains:
DNA Tetra-Peptides, Organic Green Tea Extract*, Buddleja Davidii Extract*, Thymus Vulgaris (Thyme) Extract*, Natural Preservative Blend of Wasabi, Ginger, Garlic and Radish.
*Certified Organic by Ecocert French Control and Certification
*Special Promotion*
♥ Grab the Invisible Sunbrella UV Mist SPF 45 at S$29 now (Usual price S$39.90).
♥ Get a complimentary $20 voucher when you spend $100** and above.
♥ Get an additional 2-piece travel set worth $22 when you spend $180** and above.
*Promotion only valid at Suntec City and online store **Purchase must include an Invisible Sunbrella UV Mist SPF 45.

They also had a Q&A game to which I got 1 question right (yay!) and was awarded with their 1st Line Probiotics Exfoliance Gommage. Omg!! I love this product super super much.
Christine and I did a test of the exfoliate on our hands and omg check out the immediate difference. The darker hands are mine. And ok la, since the difference is more evident in my hands, my hands appear to be more dirty than Christine's!
$35 for 80ml on their online store here.
ENAVOSE RETAIL POINTS
Online Store Available 24/7 with FREE SHIPPING ISLANDWIDE
(till Sunday 4 March, 2012)
www.enavose.com
Concept Store: Suntec City Mall, Tower 3, #02-079/081
Beauty Counter: Tangs, VivoCity Beauty Hall
Check out my reviews for Enavose's FloraComfort Micellar Cleansing Water, Cellogist Youth Guard Cream & Black Tea Quench Mask.