How much it costs from Singapore to Boracay.
There is a recent avalanche of 3D2N holiday getaway deals from the Singapore deal websites but I booked mine separately.
Flying with Philippine Airline to Boracay on 26 April 2012 to 2 May 2012 for a total of 7D6N stay with Kikko's Beach Resort costed me a total of SGD800 per person.
One Day in Manila
Philippines airlines is a full service airline with meals onboard and 20kg baggage per person. The flight departed from Singapore to Manila and a transfer at Manila to Kalibo.
We landed in Manila at 5am + in the morning and was dead tired! We took Philippine Airlines from Singapore. There was a full meal served at 2am! How cool is that! But obviously, many onboard were dead tired and sleeping but the stewardess was oblivious to it all by asking "chicken or beef?" really loudly!
If you arrive Manila early in the morning with nothing to do and many hours to kill, try these:
● Take the free shuttle to Resorts World Casino
● Take a white cab to SM Mall of Asia - a hugeeee space with shopping, food, an ice skating rink, movie theater and even a hypermarket. Yes there are heaps here but we were bored here very quickly. The big brands can all be found here.
● Take a white cab to 168 shopping mall - this is more like bangkok's chatuchak market. This place is a group of shopping centers which are rowdy and disorganised but you can find some really cheap buys here. Do note the quality is not that good. Also give yourself more time to get a cab when you want to leave for it's not easy to find one in this area.
Getting to Boracay from Singapore
The nearest airport to Boracay is Calticlan but not all airlines fly there and most flights from Manila to Caticlan are always full. Besides my package was with Philippine Airlines which only flies to Kalibo.
From Caticlan, you will only have to make your way from airport to the nearby jetty to take a 5mins boat ride to Boracay island.
From Kalibo, it's a lot more troublesome. Once you land, you will need to take a 2 hours bus ride to the Caticlan jetty to take a 5mins boat ride to Boracay island.
At the Caticlan Jetty, do note that you have to pay a P100 per person terminal fee which is very likely not included in any package price.
Also, you will need to carry your luggage and walk on a thin plank of wood onto the boat and then place it on the roof of the boat. Sound crazy? Yes it is. But there are many staff the who will be more than willing to help you with it for a porter tip of P20 - and that's only when you get on the boat. When you get off at the other side at Boracay, you will need to reverse the whole procedure to get the luggage out. So that would be another P20 to the helpful guy if you wish for their help. The tip is worth it so be prepared with small bills or notes!
When you reach the island, you will need to shuttle to your hotel. It should be included in your package, if not then you can grab one of the many waiting tricycles.
Kikko's Beach Resort
We arrived finally after a rough day of crazy transfers at Kikko's Beach Resort. Imagine. Taxi from home to airport, take 4 hour plane ride from Singapore to Manila, 9 hour day out at Manila, 1.5 hour wait for flight to Kalibo, 45min plane ride to Kalibo, 2hour bus ride, boat ride to the island, and a jeep transfer to Hotel.
I could only be grateful that the hotel was comfortable and decent. We were greeted by a very happy staff at the front desk at 10pm at night (we departed home to SIN airport at 10pm the night before) who showed us to our room and helped with our luggage.
Our stay at Kikko's was extremely pleasant. The customer service staff was very friendly and accommodative. Even the hotel staff and security guy (both the day and the night shift) were extremely considerate and always smiling.
They took care of our little needs without us asking for it. They switched on fans for us while we waited at the lobby for tricycles, they noted the tricycle license plate numbers when the tricycle came to pick us, the chambermaids were considerate enough to know which to throw and which not to throw (cos I had a lot of little slips of paper here and there and half used cream samples), and service was always delivered with a smile.
The hotel location was no good at all. It was located all the way at the end of Station 1. It was a 3min walk to the beach but a 25min walk to the heart of all the action at D'Mall. It's a quiet location. The beach area 3min walk away is very quiet and secluded as well.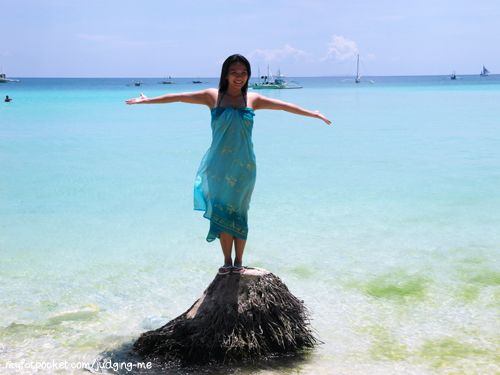 The hotel lobby and restaurant design is quite basic. Nothing to shout about. The pool is a quite a joke cos it's terribly small and shallow. But then again, at a place like Boracay, any swimming pool will be a joke to swim in compared to the lovely beach.
Daily breakfast is included and we had a variety of western omelets and local food to choose from. I have no complaints about it.
For days when you want to just sleep in and have brekkie in bed? Just dial the reception and they'll deliver it right to your room at no charge! How awesome is that?
The bed is very comfortable. We were given four plush pillows and slept very well every night.
To make up for the not-very-central location, they have shuttles to D'Mall every half hour. But since the roads are not ready when I was there, they made up by paying for all our tricycles rides! That was unexpected and very good. Tricycle rides from D'Mall to the hotel was P75 one way for two persons.
I would definitely come back again. A great big thanks to the lovely staff that made our stay truly comfortable.