Did you know that when you go to Angel Xin Beauty at City Plaza #02-36 for your eyelash extensions, you can customise it to however you want it? I.e.: Longer, shorter, more curly, thicker, thinner...
If you haven't already, check out my last two eyelash extensions (here and here) where I wanted something natural. I got a little more daring this third time that I am having eyelash extensions on.
I'm going to Bangkok for 8 whole days this coming week and you be sure to stay tuned to find out why I'm there for so long. It'll be worth your time.
I'll be doing a video shoot of some sort there so I wanne make sure I look prettttyyyy with as little effort as possible (and besides I really suck at putting on false eyelashes).
So the first thing I thought of was Angel Xin Beauty!
Here are some photos!
The lady there asked me how do I want my eyelashes and I showed her a magazine. She said ok, no problem and went on to do the work. She asked me if I want it alternating between short and long (previously I had it all the same length) and so I decided to try for the alternating lengths. Worked out real well.
She did trimming to ensure I feel comfortable with the lashes and all.
Immediately after it was done, I looked like I had a make over done on me loh! Damn cool. The BF saw and said I looked "alert & fresh" with the lashes on. -.- Then I asked if I looked like shit before then. -.-!!
Here's a closer look: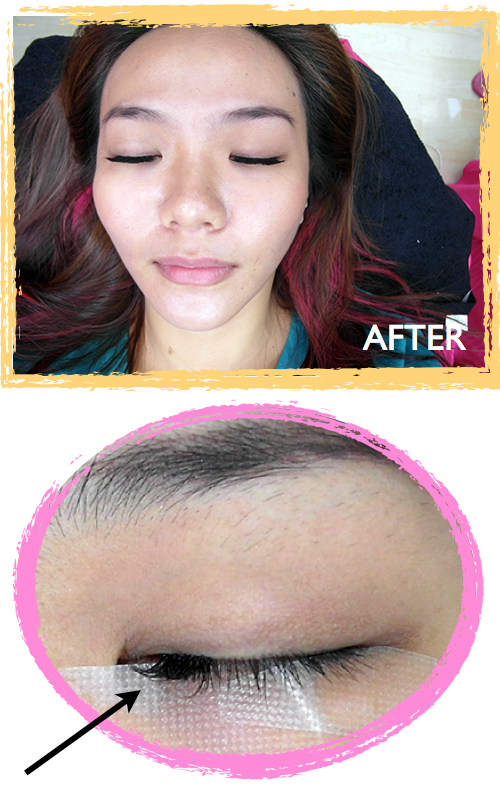 I took a photo to show you how intricate the sticking on work is. They do it lash by lash, sticking it as closely to your lash line as possible.
If you've had lashes done before, you'll know it doesn't always feel comfortable especially when you blink. This time around when I did it, it felt really comfortable and I could blink my eyes freely.
Now that's a good job done.
It costs $50 per session and $10 for touch up. There is a current package promotion at Angel Xin Beauty whereby 12 sessions goes for only $300. That's only $25 a month for a whole year of pretty lashes!
**
Angel Xin Beauty Website | Facebook
Cityplaza #02-36
Call 9877 3886 to make an appointment!

Check out ongoing promotions here.