"Clients love it when they leave the salon with a perfectly smooth sleek finish. We know they'd like to get that frizz-free look every day. bye.bye.Frizz is a frizzy girls dream since it not only removes frizz, it makes your hair so much easier to blow out and style. Plus, your hair will never feel softer or look shinier. Like we said… it's a frizzy girls dream."
– Marc Anthony Stylist Team
INTRODUCING: MARC ANTHONY's BYE BYE FRIZZ range!

What makes Frizz tick? Let's understand what's the root of the problem!
It all begins with the cuticle; the outermost part of the hair shaft that protects the inner structure of the hair and gives it strength. It looks very much like overlapping layers of roof shingles. When the cuticle is lying flat or closed it looks smooth and allows light to be reflected off the surface giving hair a natural sheen. When the cuticle is open hair appears frizzy, dull and coarse.
The entire Bye Bye Frizz collection is designed to solve frizzy hair issues by smoothing the cuticle and retaining moisture with the power of Keratin.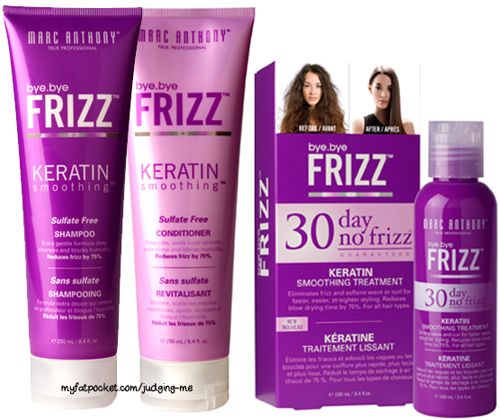 I was introduced to 3 products under this range. R to L: Keratin Smoothing Shampoo, Keratin Smoothing Conditioner, and the 30-Day No Frizz Keratin Smoothing Treatment. Read more about each product here!
Look at my crazy dry ends. Sigh! Probably why I hugged those gorgeous purple containers so tightly! The colour is so pretty isn't it? I'm tired of boring shampoo bottle designs!
So I washed my hair first with the Shampoo, then the Conditioner and my hair was smooth like a waterfall when it was wet. After I let it naturally dry, the texture remained soft and that's the real test! Most conditioners can make your hair really smooth when it's wet but once it's dry, that's when you see the real effects. So far, I'm really loving it.
The smell is great (smells like I had my hair washed at the salon actually).
This treatment gives us quicker frizz-free hair as it contains the same natural keratin protein found in human hair which will strengthen and rebuild damaged hair! So that's why!
The Bye Bye Frizz 30 Day Treatment works like this: Wash hair with clarifying shampoo. Do not condition. Blow dry hair to 80% dry. Apply evenly from roots to ends and wait 30 minutes. Do not rinse. Blow dry hair smooth. Flat iron in small sections, 3-5 times per section. After that, it kills all the frizz and stays smooth all day!
Why pay $200 over for a Keratin Smoothing Treatment at Salons when you can have this entire set at home for less than S$70! And needless to say, it'll last you more than 1 visit to the Salon!
And if you're too lazy to blow dry your day, then just get the shampoo and conditioner which will cos you less than S$40.
For HAIR that is softer, smoother, straighter, and frizz-free, try Bye Bye Frizz by Marc Anthony! My hair is much easier to manage now in the mornings and so much easier to style and go!
***
Bye Bye Frizz Products are exclusively available at Watsons islandwide
Keratin Smoothing Shampoo (S$19.90)
Keratin Smoothing Conditioner (S$19.90)
30-Day No Frizz Keratin Smoothing Treatment (S$29.90)