17 – 21 April was the best days in my life for the last 3 years!
This trip was planned 3-4 months beforehand while I was still working in the "niao" angmoh's company. It was meant to be a retreat from all the stress from the political bosses/staff & studies, however, just a week or 2 before the trip, I went "jobless". It was good in a way cos I really could enjoy myself & come back to just only studies and not mind games.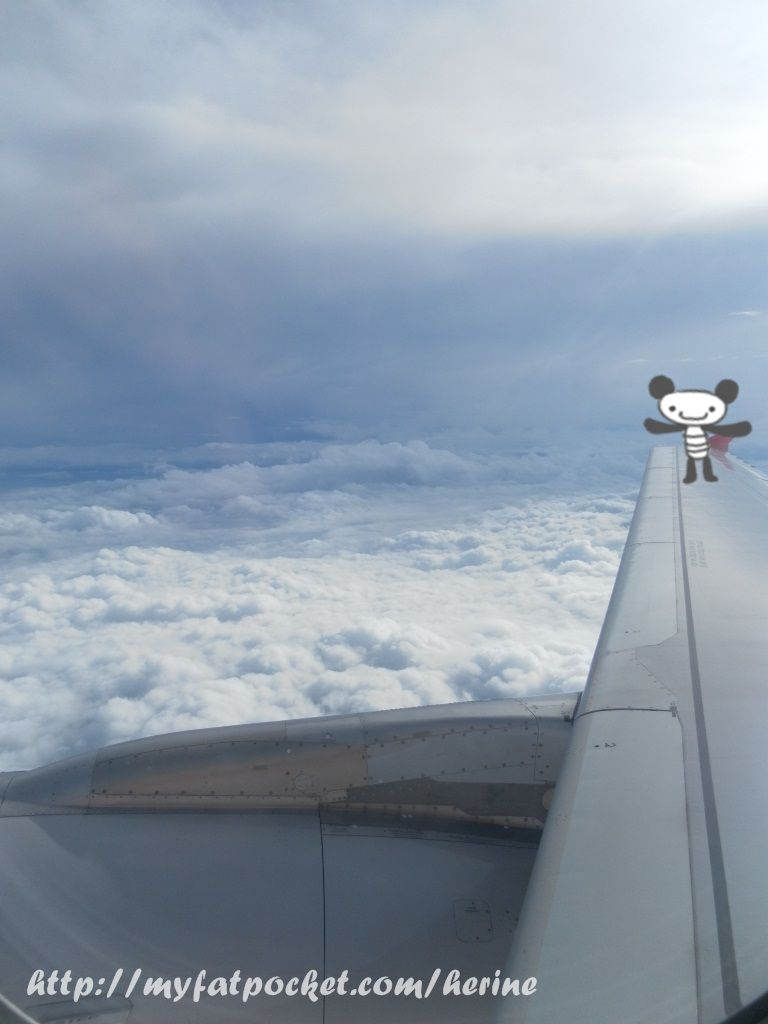 Paid only $10 for the air ticket! (before all the taxes)
On the plane as I was looking out from my window seat feeling bored, I thought about why people like taking photos like the above.
I came up with different reasons like:
We take to show people that we are on the plane going to somewhere.
We hardly see clouds eye-level or below us.
Just bored & nothing to do on the plane.
Don't want to take photo of ourselves too much cos didn't really put nice makeup.
Then, I started thinking about the weight the plane can take… What if it couldn't withstand? What if the crew and people who made the plane overestimated what the plane can take? What if there's lightning & it hit my window?
After the little paranoia attack, I thought how would it feels to be walking on the clouds. Well, I KNOW we cant possibly ever walk on clouds and not just falling through. But when I was young, those people in TV shows always bounce around on the fluffy clouds.
The above were just some symptoms of holiday excitement.
Vacation companion, C!
Why is it that people always sleep so little before their flights?
Sleep deprivation can turn us insane.
Oh well, its actually the people sitting behind & in front of us who forced us to sit more forward than others and yet the front seats people just selfishly push their seats back INTO our frigging faces. (To & fro trip also same thing happen!!)
Does it means that in future I gotta take SQ instead of jetstar or any other budget airline to just Phuket, a less than 2-hour journey??
From the airport to patong, we decided to try out the mini bus since it's only 150baht per head. That's like SGD$6.25 each for the 45mins ride. The taxi costs 650baht (SGD$27)
It is okie EXCEPT that we weren't allow to wait for the next mini bus available & the one we board was left with only the pathetic back seats & poor C sat beside all the luggage! We should have jolly well paid SGD$27!
Fortunately, the mini bus dropped us (and every other passengers) at whichever hotel we were staying in.
Welcome to The Nap Patong! It's one of the newest hotel in patong area and it looks outstanding in the entire area.
We were full of anticipation as C said the last time she came to Phuket, she passed by this hotel & swore she will come here to stay for the next time. I was that slightly bit pissed cos I had dropped them an email regarding some enquiry 2-3 months before & they NEVER get back to me. Maybe because I wasn't a physical customer that's why they didn't pay any attention to me?
We paid SGD$150 per night.
I will not deny that their service at the hotel is good though. But like I said, when we were PHYSICALLY at the hotel. *still bear grudges about my email not replied*
Their spacious and clean concierge area with nice seats for tourists who have to wait for their check-in time.
The very nice bar restaurant which is a very nice place to have our breakfasts and chill outs at.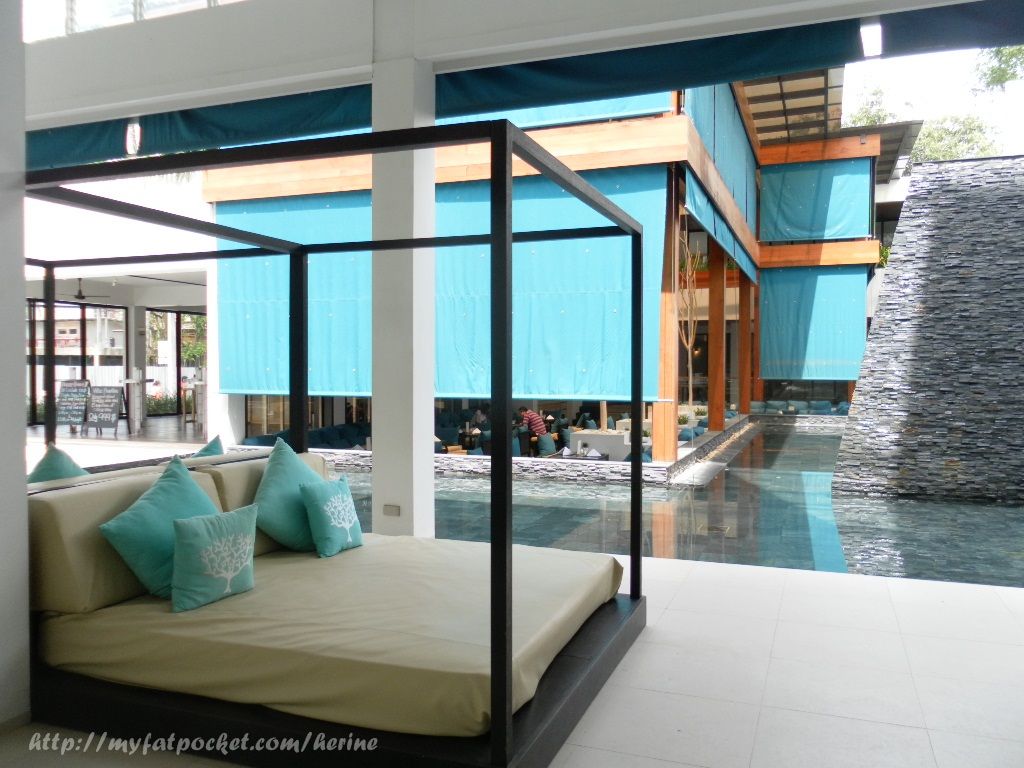 At the concierge area, there are also 2 beds like this. For those extremely tired tourists who gotta wait really long before they can check in? That's if they are fine sleeping with people walking around.
Let me show you what other facilities are there at the ground level!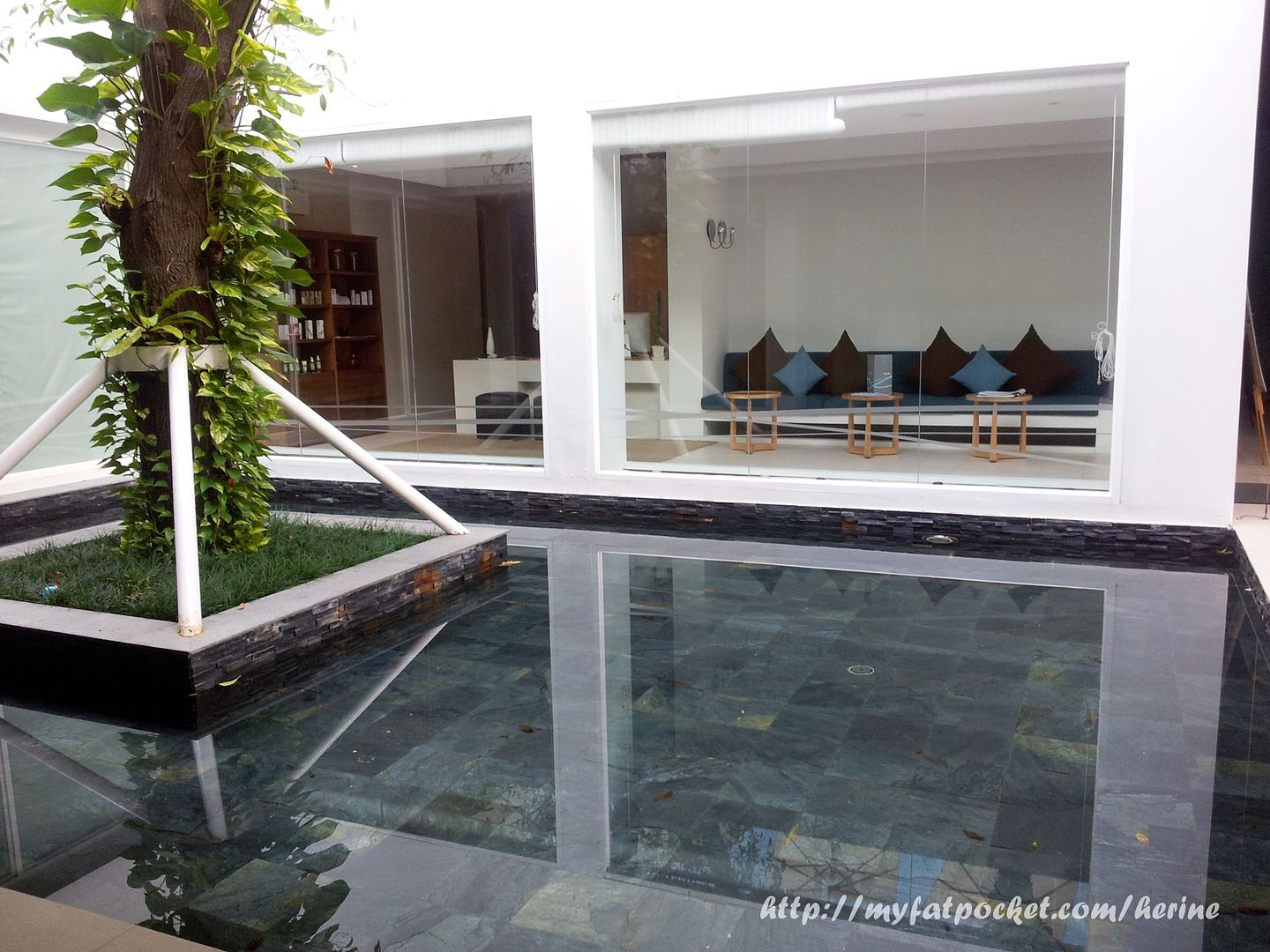 A spa which we never visited for the entire stay.
Recreational area overlooking the concierge area.
Free pool table and we played 1 or 2 rounds after our buffet breakfasts!
(By the way, there is free buffet breakfast every single day of your stay)
Business centre & a small gym. Didn't go in though.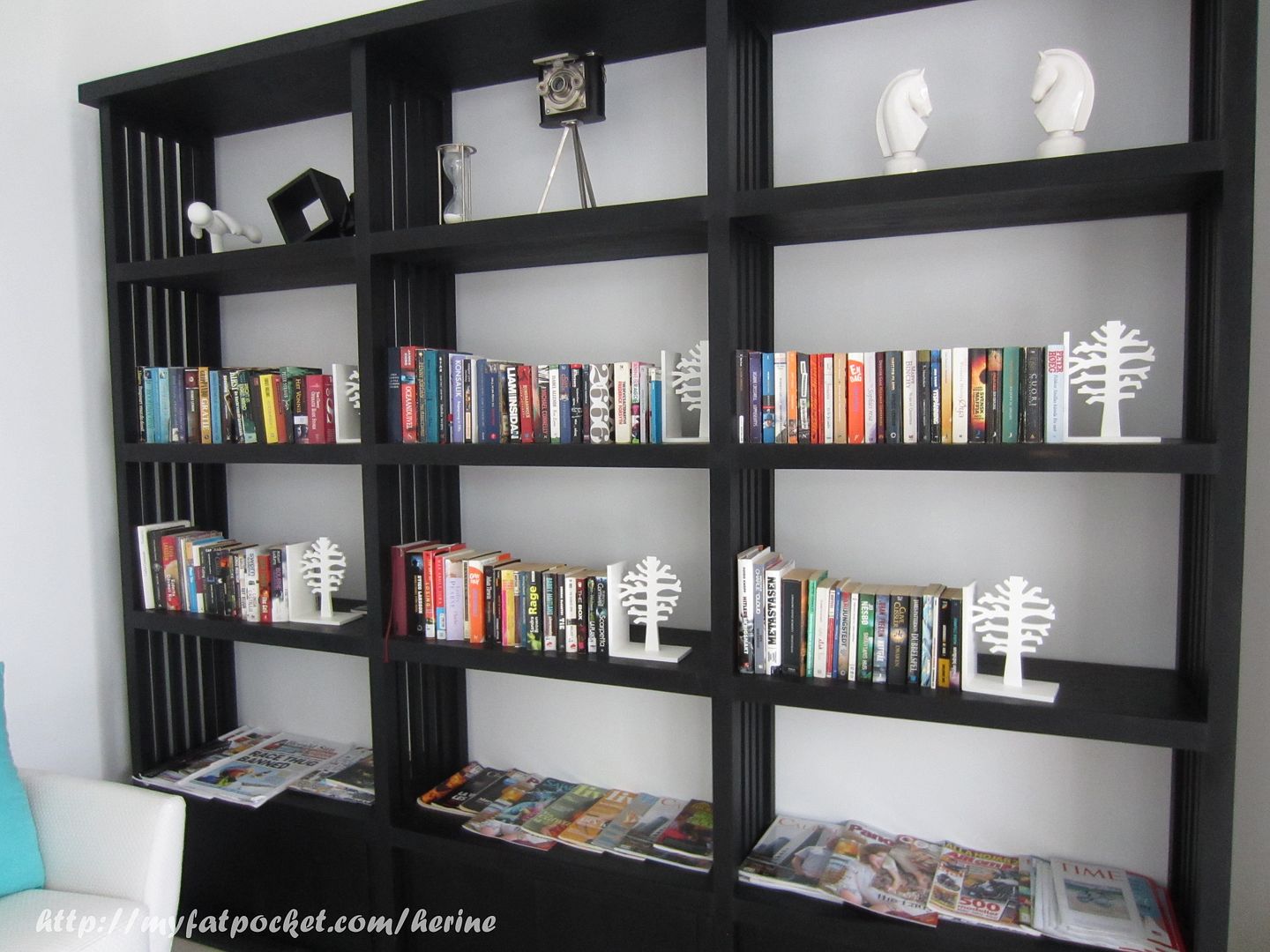 There is also this room with books for you to read…. and MOST IMPORTANTLY…..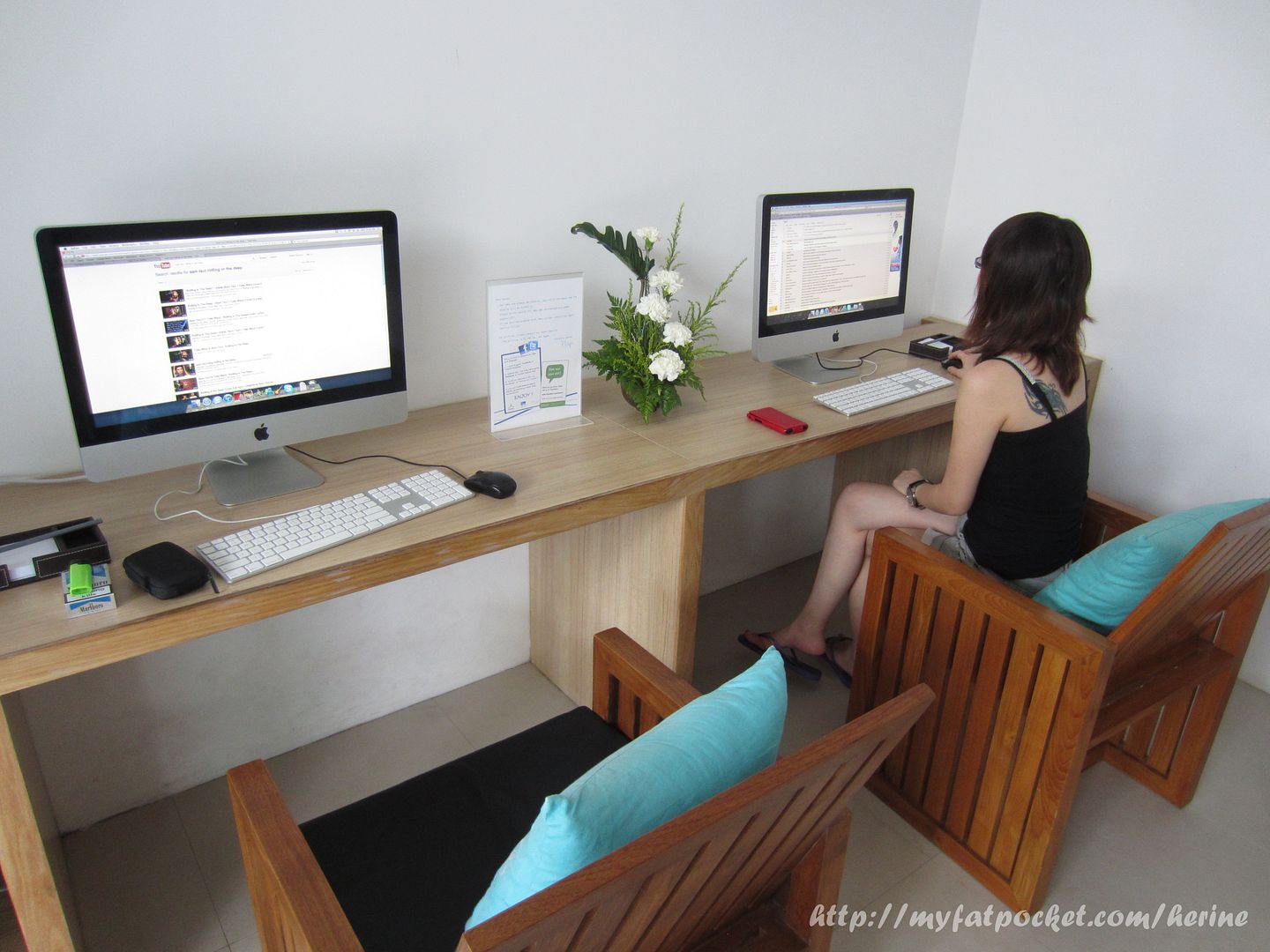 FREE internet! Mac some more! Haha!!
Haiya, I didn't read up about this & still thought: "okie lah, I shall survive 5 days 4 nights with social media or checking my emails."
Every level outside the lift is a bin with "ash-tray" that they imprint with the hotel's logo religiously every day.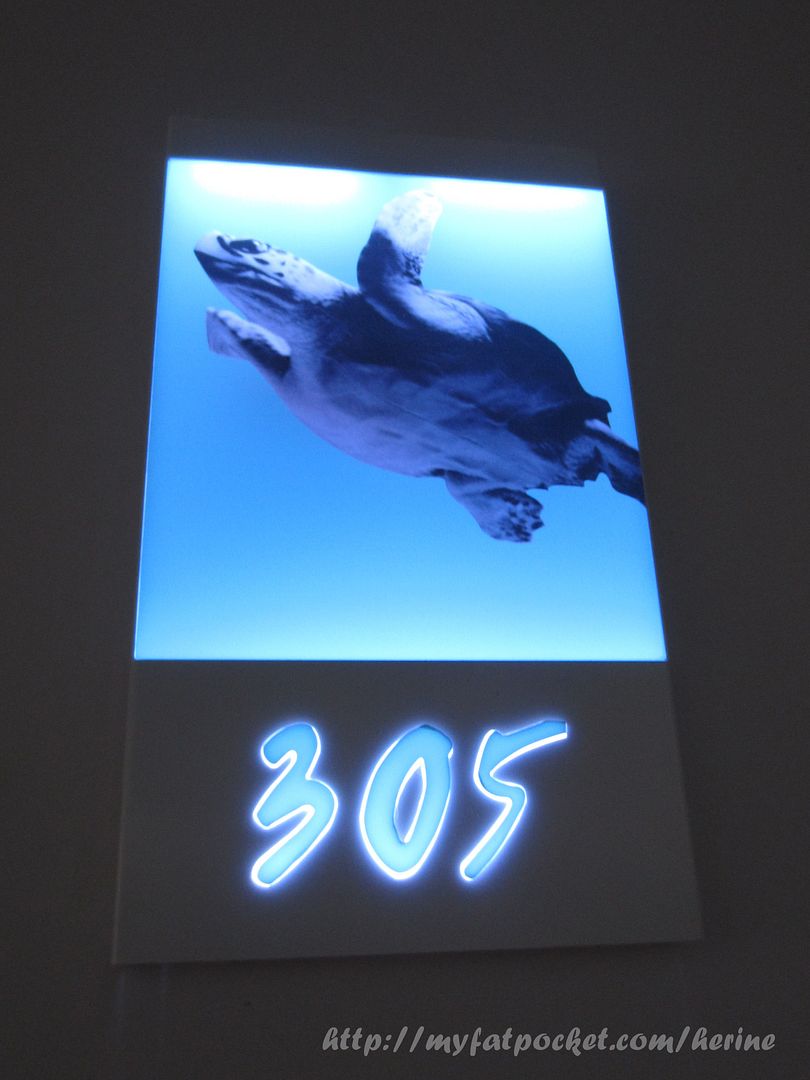 Outside our room!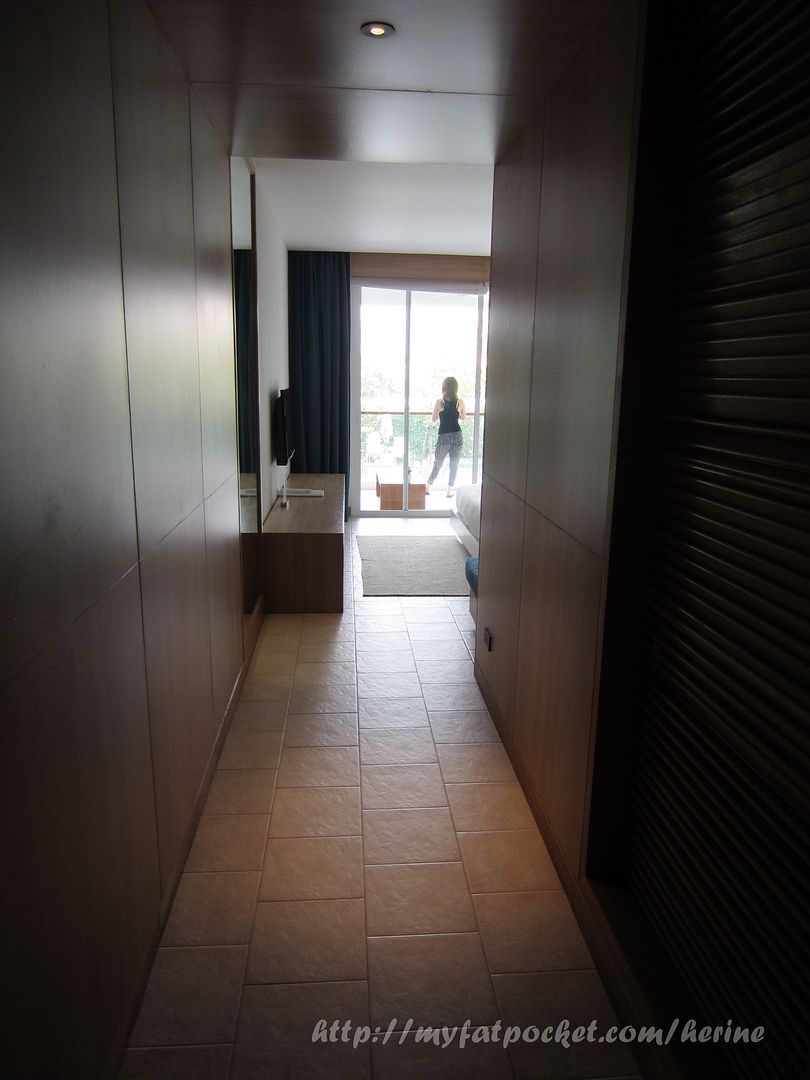 The moment we opened the door, we saw this long erm… passageway?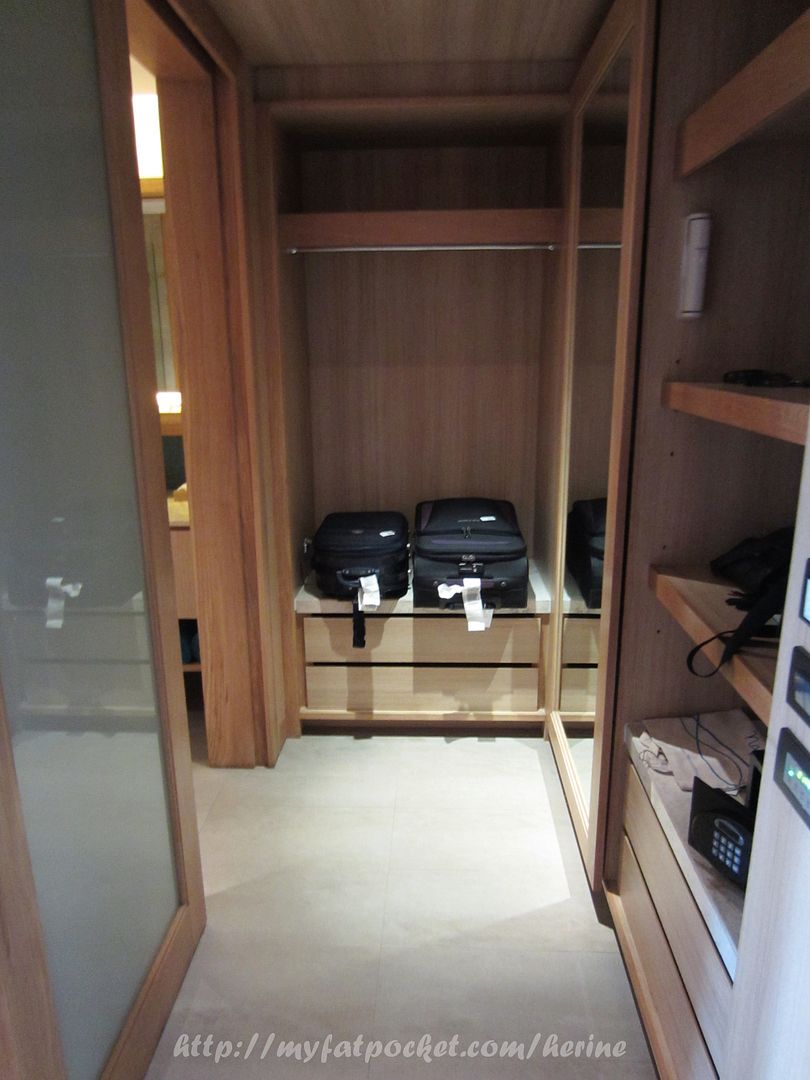 On the right beside the door is this mini "walk-in" wardrobe and the bathroom! The usual: Bath robes, Safe, iron board and even a torch!
I super like it that the bathroom door does not face the door or the bed area directly.
Nice, simple & spacious bathroom!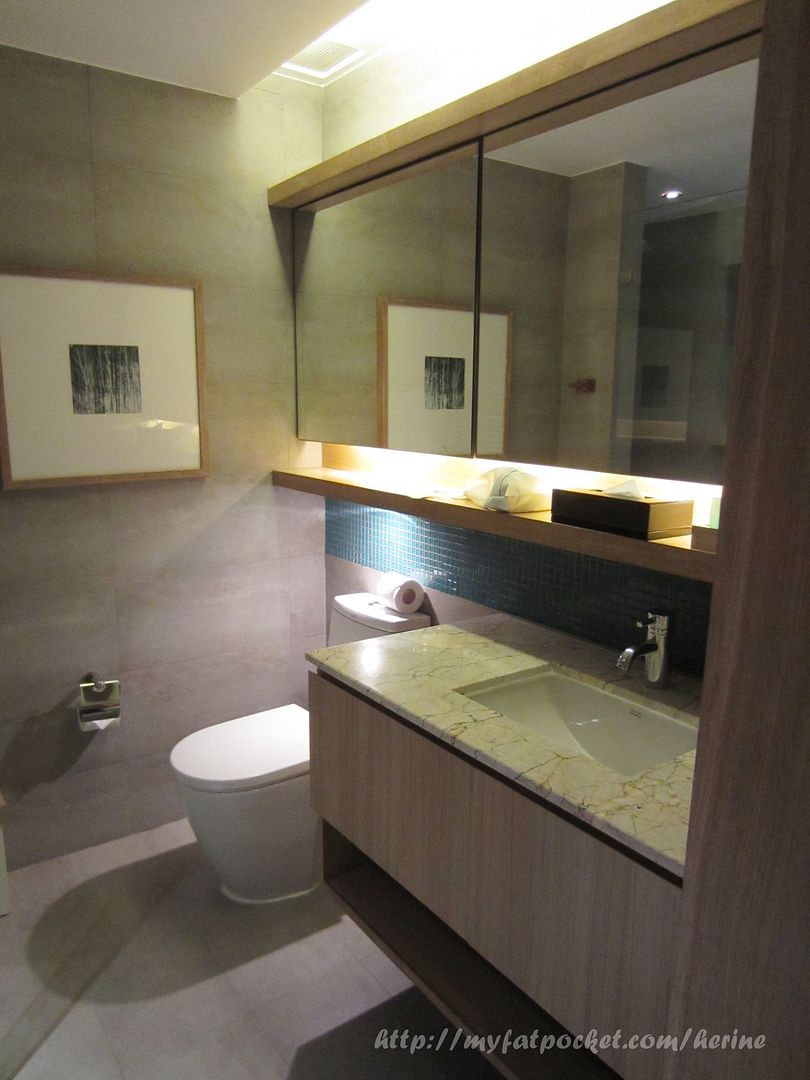 C was like: "Wah… looks so clean hor? But I am going to wipe the toilet bowl with the sanitizer that I brought."
Then, out she whipped the small bottle of hand sanitizer and started wiping the toilet bowl. Fwahaha.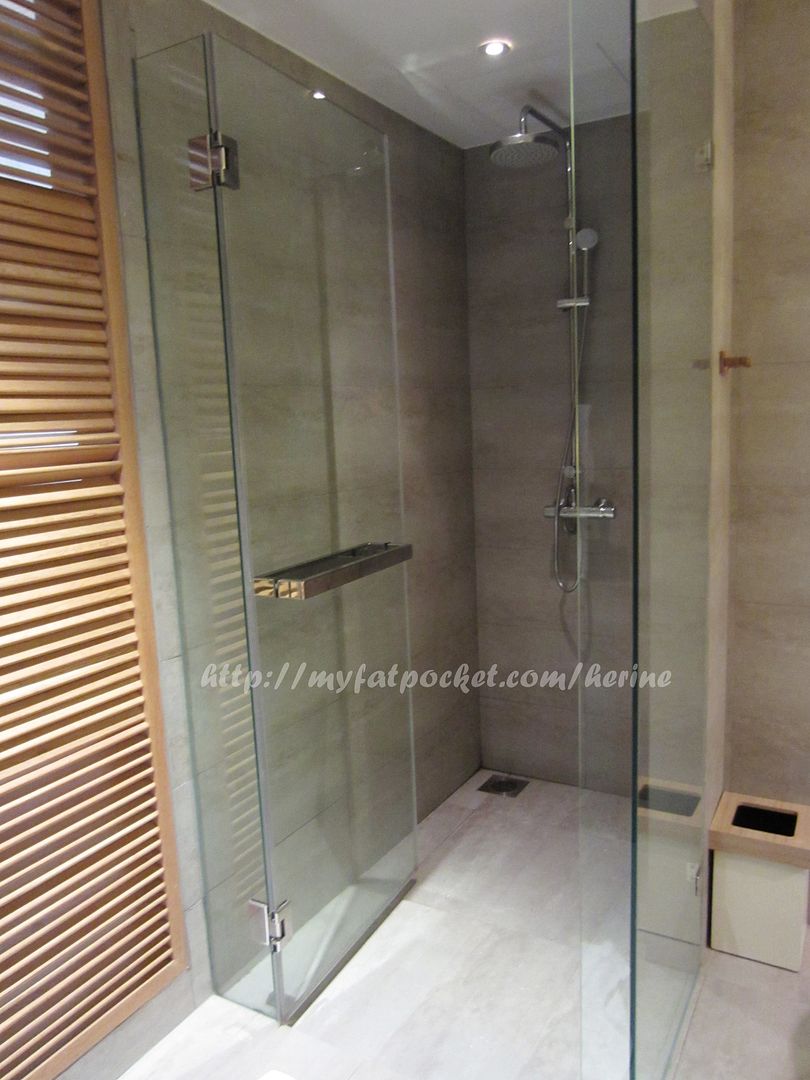 No bath tub, but rain shower is shiokness too!
See the left side of the photo above? It's those wooden panels that you can "adjust" to open or close depending on how much you would like your partner/friend from outside to see you, or you to see them when you are taking a shower, or pooping.
I admit, I kept peeping at C, cos it's lame & fun? LOL
There is also a weighing scale which is not in the photo. I sometimes enjoy seeing the weight maintained despite eating so much. Well, I am happy too even if I gain a lil weight. Too skinny ain't sexy anyway.
The "bedroom" of simple basic colors is very soothing for the eyes. Both C & I are not fans of overly-decorated rooms.
Big balcony which overlooks the swimming pool on the 2nd level. We were on the 3rd!
Means… we get to see half naked people around ALL THE TIME. sexxxaayyyy~~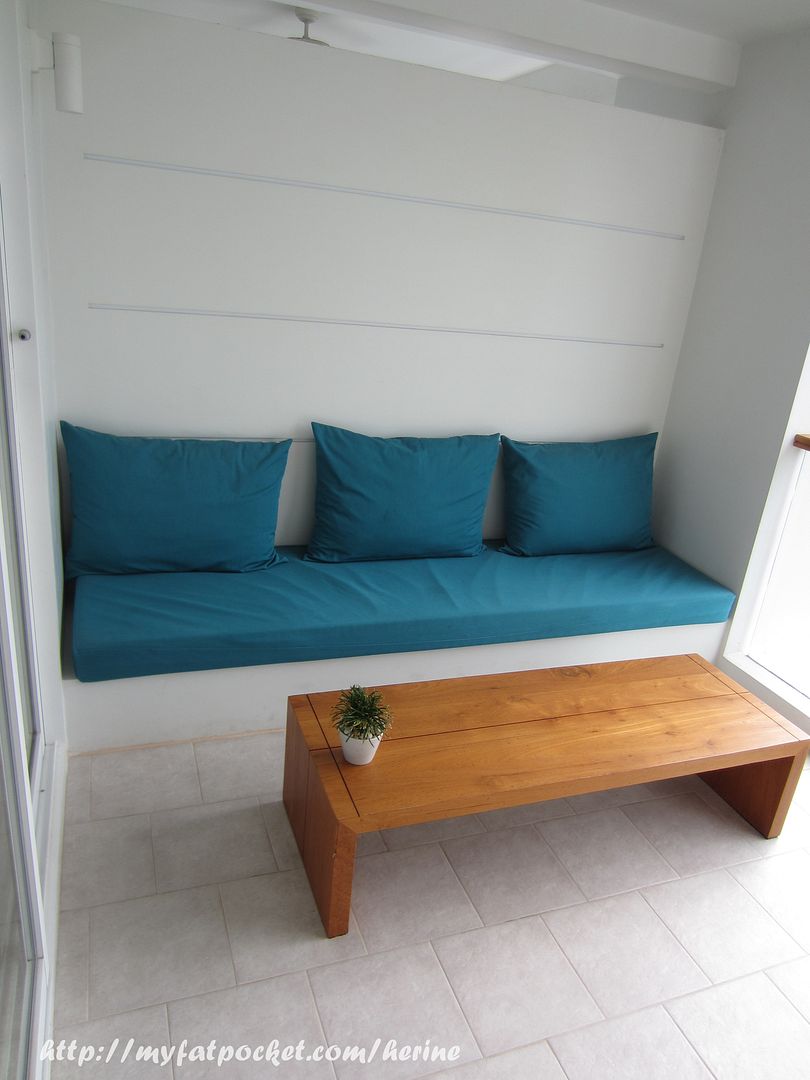 3-seater sofa that you can lie down & read a book or watch people in bikinis if you want.
This is the view that I got from the sofa.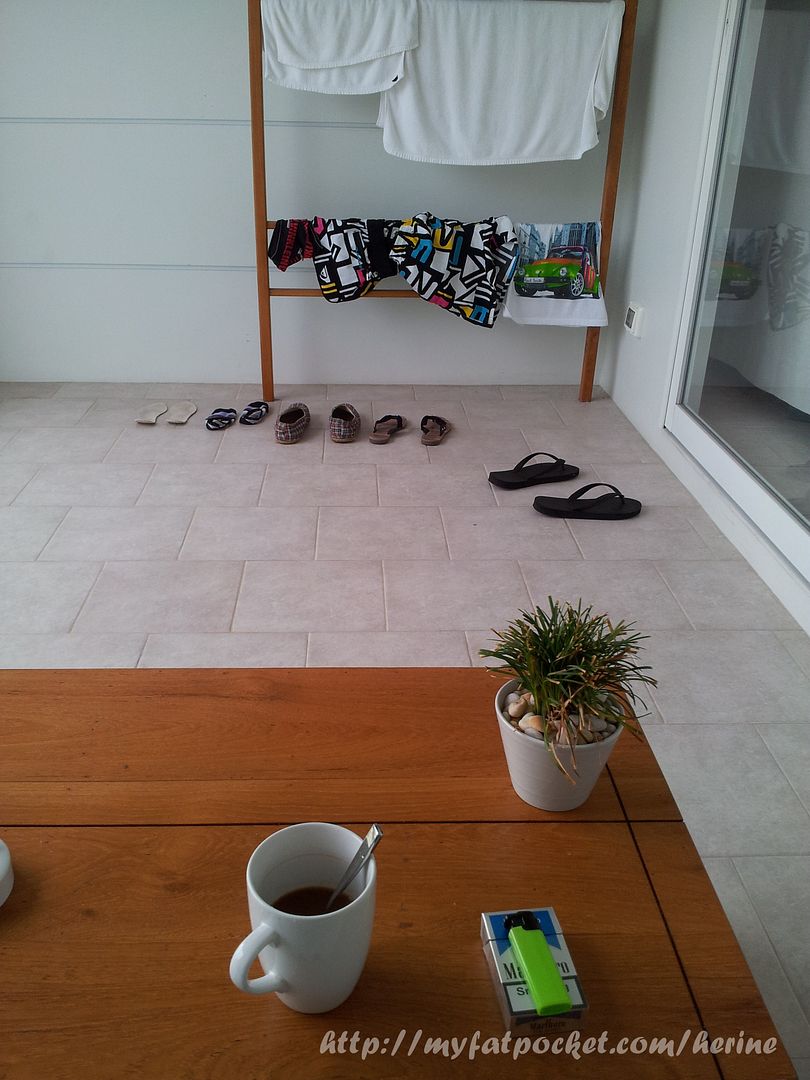 A rack for your wet swim wears!
Swimming pool has plenty of tanning benches.
Ground floor view from the balcony.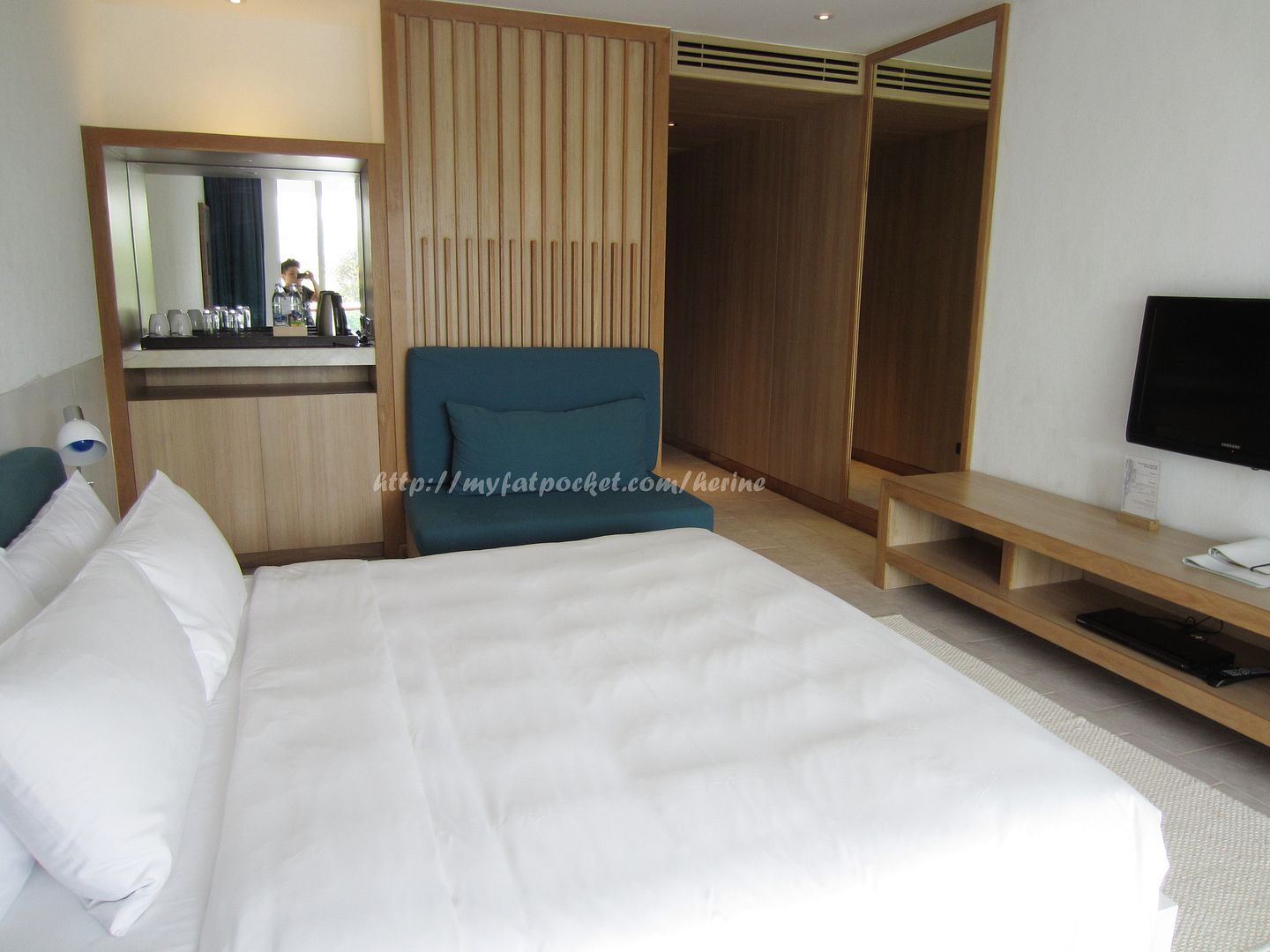 A 2-seater sofa in the "bedroom" too! We sat there to snack when we wanted to watch dvds.
Complimentary minibar.
These drinks in the fridge will be replenished without extra charges whenever they tidy up the room. (Unless you put the leave-me-alone sign)
Ending Phuket's Part 1 post with us buying "The Vow" to watch on the big TV. It costs only 80baht (SGD$3.33)!
The dvd prices should be fixed. But highly possible they will raise it to 100baht if you look like the easy-to-chop kind of tourist!
(ps: when I wore contact lenses + makeup, stall vendors asked if I am Japanese. With specs + little/no makeup, they asked if I come from China/taiwan! ;-S )