It's the GSS season so how could MFP miss it out! Weekday highlights on sales!
Whenever it's the June/July period. I tend to try not to head out to shopping mall that often. Simply because I'm cannot resist sales at all. Even during normal times, I will just auto pilot myself straight into the shop which has SALE sign all over though I've no intention to buy anything. And often, I'll end up with loots in my hands when I leave the shop.
I usually shop for clothes, shoes, beauty products and many more. I especially love shoes and of course make up.
Here's 5 of my favourite sale that MFP highlighted!
Uniqlo is one of my favourite outlet to shop for tees and tunic tops etc. And they have recently open a new outlet at Bugis+ which is one of the biggest outlet so far if I'm not wrong?
I love Hello Kitty. And my eyes went 0.0 when I see this promotion going on at Crabtree & Evelyn. A min spending of $180 to get a Hello Kitty Tea set as a gift! The above set requires a min spending of $460. That teapot is so adorable!
GSS is not all about fashion and beauty products but food too! Tell me you don't stop to have an extra few sniffs when you pass by a Famous Amos shop unless you're in a rush!
Breakfast is one of the most important meal in a day. Grab the chance to have a hearty breakfast with your special ones with the 1 for 1 special at T.G.I.Fridays on weekends!
GSS is the season to get that item that you've been eyeing for. The latest spring summer collection on sale now!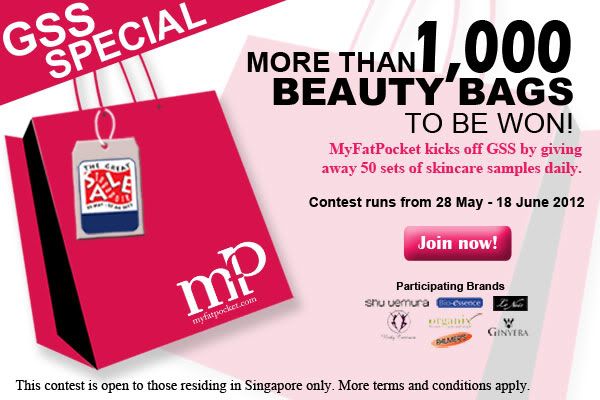 This GSS, MFP is giving out Beauty Bag daily!! Just like MFP's page and join the contest! Click the picture to go to the contest app on FB!
Happy Shopping this GSS!

XOXO,
Joyce.Forensia