I had wanted to blog about the entire Halloween but I was overwhelmed by the amount of photos and decided to just do a teeny bit of it today! There's a couple of readers asking what I'll be dressing up as so here goes….
Im dressing up as the little devil……….. How boring right? zzzzzzzz….. I also think its the boring-est of the boring-est….
Sigh… but that wasn't the initial plan! I had wanted to dress up as either Alice from Alice in Wonderland, or Dorothy from Wizard of Oz… Simply because I like blue and both of these characters are "very blue"… But I was late and I did not have enough time to order costumes online. I went to the costumes shop to look for one with Min but as expected… I can find nothing that's my size…
So I took out the corset I bought a long time back, paired it with my short bubble skirt (same la no need tulle tulle skirt… both got the "pom pom" effect ma… hahaha…. Don't waste money right.. ;p ). Bought a pair of horns and a devil's tail, and wore my black boots with red and black stripey socks peeing out…….Viola! Little Devil….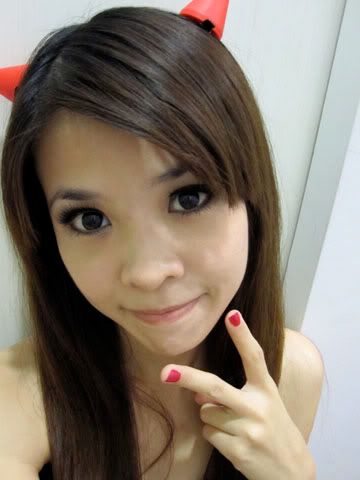 Makeup!
Layered Shimmery brown and black eyeshadow, with eyelashes that are more dramatic than usual and eyeliner…I bought a new eyeliner which I thought was fantastic… I share next time ba… eh… i forgot my lip colour when I took this pic… hehehe…
I wanted to use either a black or a white lippy… but was really busy last week and had no time to buy!
Oh I painted my nails red too! This is the first time in my life that I paint it red! heh!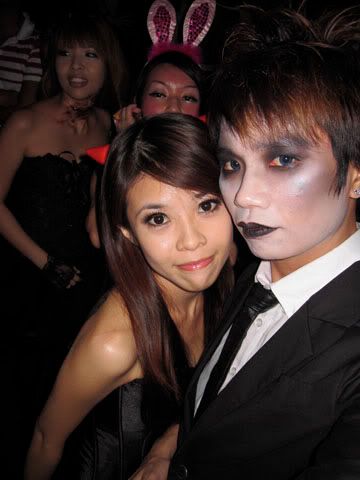 Dear Dear's makeup… hahaha… nicely done huh!
He's performing and hence got professional to do for him la! I love the lips!!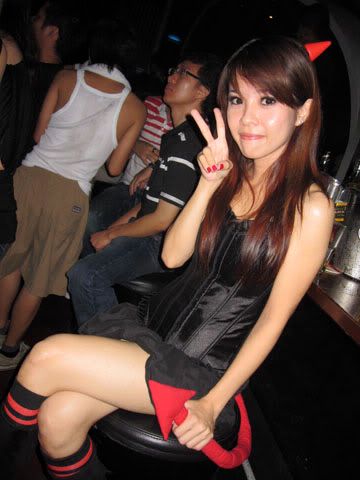 And here's the boring outfit! hahaha…
Anyway.. the devil's tail reminds me of the stingray's tail…
So…Im the sting-vil…..
bo liao xiaoxin…. hahahaha…