It seems like I have been gone for a long time…Oh yes. For the last couple of months I have experienced a confusing mixture of work and play. Although this might sound good and appealing to some, the actual turn of events is anything but. Upon graduating I had thought, ever so naively, that working my way up to my dream job would be a piece of cake…Take on some photo gigs here and there, network, then boom! Dream job! Well…how wrong was I? VERY. What seemed like hundreds of applications later…the result was horrible! Talk about a very harsh reality check. =___=
I don't want to look at the present as starting from square one because I know it's not. Life is all about hard work and perseverance and we have to realize that a lot of the time we won't get the result we expect. For example, if you apply for a job and you're not chosen for the position, don't take it personally because almost every single time it really isn't anything personal. The reason could be as simple as you not being as qualified as the other candidates. All you can do is shrug it off and tell yourself that all this means is that a better opportunity is waiting for you elsewhere and to find it you must always keep your best foot forward! Keep smiling and try and try until you succeed!!!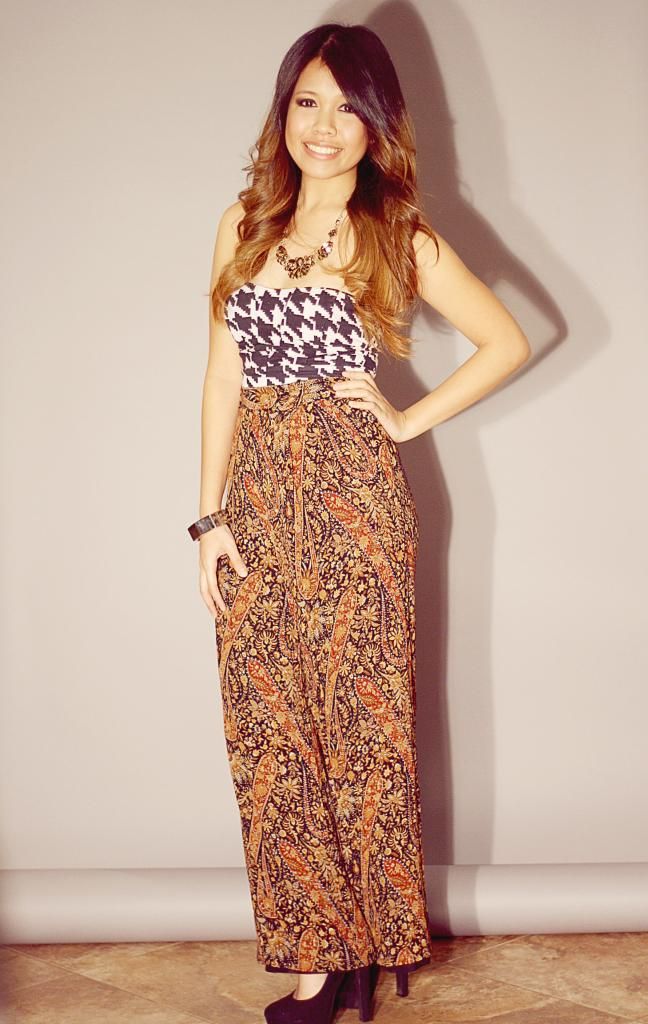 But enough serious talk! It's a new year and a new year dictates great changes!!!
I've recently launched my website gilliantomimbang.com, which showcases my best photographs to date. Make sure to check it out! Also, this year I've decided to change my style to something older and simpler. As many of you know, I look very young despite my old age *cough*cough*…but thankfully I've finally (sort of) blossomed where I can actually (almost) pass for a twenty something year old!
As you can see here, I'm wearing high waisted printed pants with a cropped printed top and high heels. Before, I would very rarely wear heels in photographs because they were always very uncomfortable to me and I would always opt for flats or something with lower heels. Now, because I want to look more grown up I'm learning to wear heels more often (when the occasion calls for it of course!) and walking in them without falling. ;p
The bandeau length cropped top I'm wearing here has been a very big trend lately and I must say I still feel a bit insecure wearing one…which is why I chose to pair it with my high waisted pants. Lol. There are so many girls out there who are so confident and bold and wear this type of top with their midsections proudly showing…in the winter too if I might add! I'm a little bit jealous and wish I could be as confident, but I always feel so scandalous wearing one! Even the longer ones! But I do admit that I had, once upon a time, the courage to wear cropped tops, but only with a little bit of my midsection showing. Hmmm maybe it's because I have yet to shed the holiday weight off that's why I'm being so self-conscious? Probably. Lol.
I hope you guys had fun reading about what I have been up to! A lot more updates are to come!
Until then beauties! <3